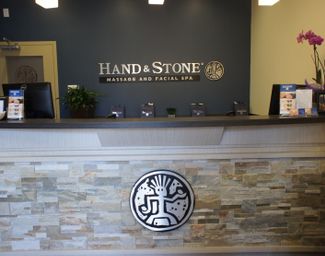 Hand & Stone Massage Facial Spa - Bloor West
3008 Bloor Street West, Etobicoke, M8X 1C2
HAND & STONE MASSAGE AND FACIAL SPA ETOBICOKE BLOOR WEST

Experience a balanced body and balanced mind with massage, facials, waxing and threading provided by the experts at Hand & Stone Bloor West.

Interested in our facial services? We know radiant, healthy skin reflects how you look and feel. Regular facials slows the aging process, improves circulation, unclogs pores, provides deep cleansing, re-hydrates your skin and clears impurities. Hand & Stone Bloor West's facials are performed by certified Estheticians and are individually tailored for Women, Men or Teens. Ask us about our Microdermabrasion and Peels. Hand & Stone Massage and Facial Spa Etobicoke Bloor West offers Dermalogica® products and we will prescribe a maintenance program so you can enjoy a clear, beautiful complexion in between regular appointments.

At Hand & Stone, we offer full face and body waxing customized to your needs. With our skilled waxing specialists, high-quality wax, commitment to sanitation and professionalism, you can confidently throw your razor away and enjoy long lasting results with smooth skin. Regular maintenance is recommended for consistent and more permanent results.

We'll help you look and feel your best, affordably! Call us today at ­­­­­­­­­­­­­­­­­­416.551.8028 to schedule your appointment! We're open 7 days a week.

Experience the difference of affordable luxury and feel great with Hand & Stone Massage and Facial Spa Etobicoke Bloor West.